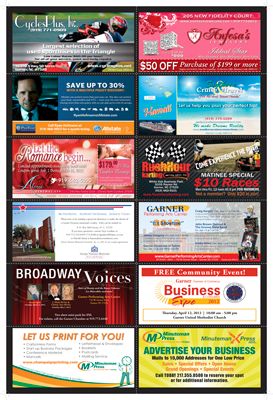 For $.03 Each, Reach 10,000+ People
You can now reach over 10,000 Champaign-Urbana residents and businesses with Minuteman X-Press Ads. It is a brand new cost-effective advertising program perfect for any company, organization or not-for-profit. For one low price per month you can announce sales, offer coupons, promote new products or services, or notify the community of an open house, special event or fundraiser.
Go door-to-door the easy way and saturate over 10,000 with your marketing message for less than $.03 per address.
The actual mailer is full color, high gloss cover stock, large in size (9"x12") and will stand out in any mailbox. The ads offer exclusivity by the type of business, so for example, only one dentist per ad. There is no fumbling with coupon books or opening envelopes.
Research shows a response rate of .5-2% or 50-200 new clients. Statistics also show that 49% of consumers prefer unsolicited messages and that 79% of consumers have purchased from direct mail offers.
Call 217-355-0500 today to save your ad space or for further information.
Minuteman Press International was ranked #1 in the printing category by Entrepreneur Magazine's Franchise 500 this year!